Welcome to Kaihatsu Factory, the ROTA rims specialists!
We now offer drift lessons!

Kaihatsu is Japanese for Development and that's what we do.
We specialise in ROTA rims, Japanese vehicles, drifting and many other forms of motor vehicle setup, tuning and motorsport preperation.
NEW!
We now offer drift lessons. Many packages available for personal and corporate events. Visit our drift school page for more information
We are the official distributor for ROTA Rims in South Africa!
If you are interested in becoming a re-seller for ROTA Rims in South Africa, visit our trade site at www.RotaWheels.co.za
We also supply BC Coilover suspension, HSD Coilovers suspension, Driftworks Coilovers suspension, Apex Coilovers suspension, K-Sport Brakes, The full range of Apex and Driftworks parts and so much more!
We offer the following wheel fitments:
- Nissan rims
- Toyota rims
- BMW rims
- VW/Volkswagen rims
- Honda rims
- Opel rims
- Audi rims
- Mazda rims
- Mini rims
- Renault rims
- Subaru rims
- Chevrolet rims
All of our products are rare in South Africa and are of the best quality. Everything is sourced from international markets where they are tried, tested and proven.

The Kaihatsu Factory Car

1996 Nissan 200sx S14 Silvia

Our company's competition car is a drift prepared Japanese import that is used regularly on the track smoking up the rear ROTA rims on full lock.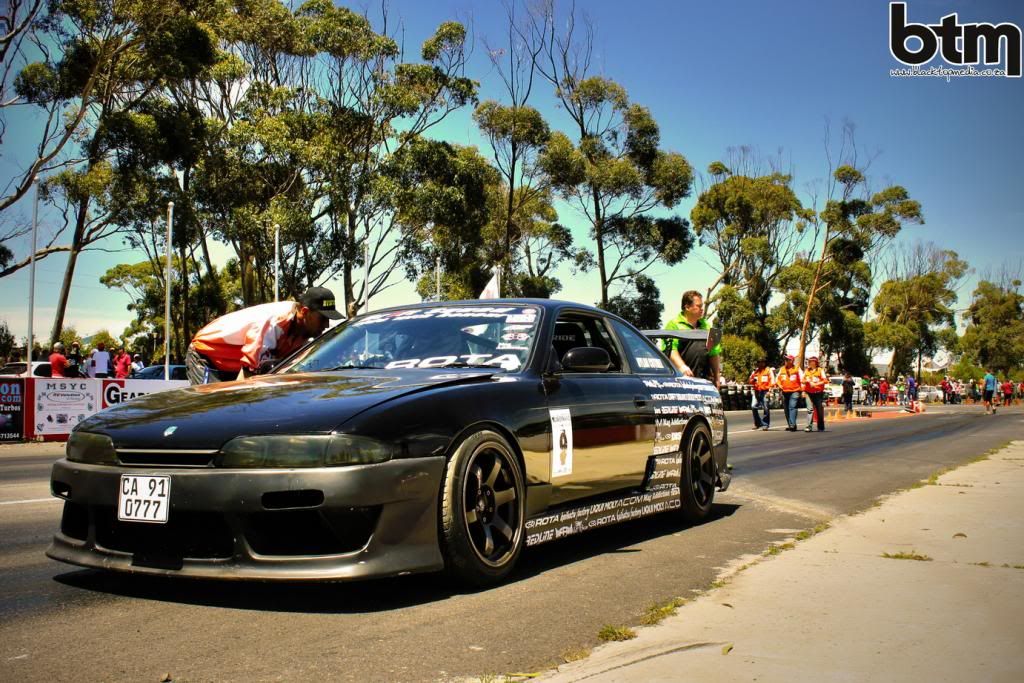 SPEC LIST
Engine & Transmission:
- Fully Blue Printed and Rebuilt SR20DET (Arias forged pistons, ACL bearings, Redline Headgasket and reworked head)
- Nistune Engine Management
- GT2871R Turbo
- 1.5 Bar Boost
- 880cc injectors
- 60mm Throttle Body
- Z32 AFM
- Cone Air filter
- Japspeed Stainless manifold
- 3" Stainless downpipe
- 3" Apex De-Cat
- Braided Turbo Oil and Water lines
- Z32 Fuel Filter
- Walbro 255lph Fuel Pump
- 3" straight through exhaust system with 4.5" tip
- HEL braided clutch line
- Sandwich plate for gauges
- ACT heavy duty paddle clutch
- Lightened Flywheel
- Short Shifter
- Strengthened Gearbox front cover
- Auto (low ratio) VLSD Differential
- Custom twin intercooler setup
- Oil Catch Tank
Suspension & Wheels:
- 17" x 9J ET25 Front ROTA Grids Rims Matt Bronze (With 30mm spacers, ET-5)
- 225/45/17 Triangle Tyres
- 17" x 9.5J ET20 Rear ROTA Grids Rims Matt Bronze
- 225/45/17 Triangle Tyres
- BC fully adjustable coilovers
- JIC Magic Adjustable castor arms
- Apex Adjustable camber arms
- Apex Adjustable toe arms
- Apex Adjustable traction arms
- All 3D aligned to developed settings
- Steering rack spacers for extra lock
- Driftworks Polybushes
Exterior:
- Full genuine Final Konnexion bodykit
- S14A rear lights
- Rolled arches
- Respray in black
- Downforce Spoiler
- Raised bonnet
Interior:
- Sparco suede dished steering wheel
- Detachable hub
- Drift handbrake
- Bride bucket seats
- 1st Race 6point Harnesses
- 6 point roll cage
- Custom gauge surround
- Boost Gauge
- Oil Pressure Gauge
- Oil Temp Gauge
- Water Temp Guage
- Fire Extinguisher
- Master Cut Off Switch
- Battery relocated to the boot